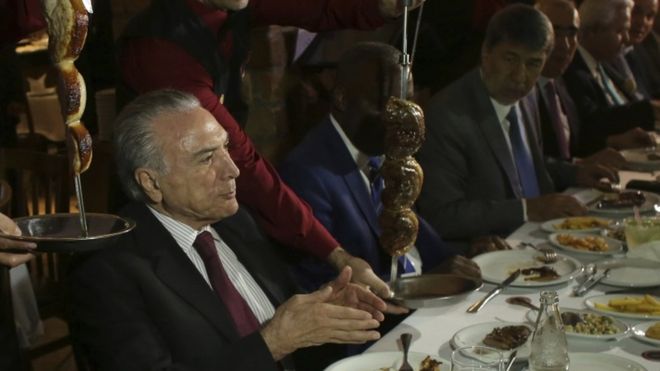 Brazil's President Michel Temer has sought to reassure foreign trade partners that the corruption scandal engulfing the country's meat industry does not mean its products are unsafe.
Meeting ambassadors from Europe, the United States and China, Mr Temer said his government remained confident about the quality of Brazilian meat.
Top meat-packers have been accused of selling rotten produce for years.
Brazil is the world's biggest red meat exporter.
"The Brazilian government reiterates its confidence in the quality of a national product that has won over consumers and obtained the approval of the most rigorous markets," said Mr Temer.
'Urgent clarifications'
On Friday, federal police raided meat-producing plants and arrested more than 30 people.
The government suspended more than 30 senior civil servants who should have spotted the unhygienic and illegal practices.
They are being investigated for corruption.
Three meat-packing plants…