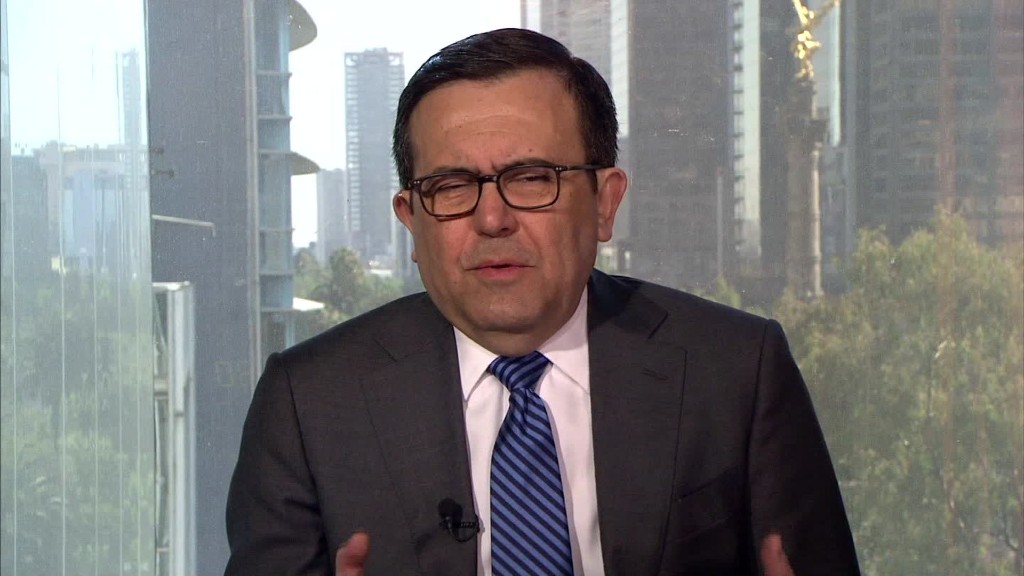 The top trade negotiators for the U.S. and Mexico said all the right things Friday at a joint press conference.
Conversations will be constructive. A new trade deal will benefit all parties. The U.S.-Mexico relationship is important.
But they weren't on the same page on one key issue: how to renegotiate NAFTA.
Commerce secretary Wilbur Ross wants to keep the option open for the U.S. to hold separate trade talks with each of the stakeholders: Canada and Mexico.
"It will either be two parallel bilaterals…or one main trilateral," discussion, Ross said at the press conference in Washington.
Mexico's economic minister, Ildefonso Guajardo, doesn't view separate talks as an option. He immediately jumped on the mic after Ross' comment and emphasized that all talks should occur will all three parties present.
"NAFTA is a trilateral agreement…it makes a lot of sense to discuss [the chapters of NAFTA] trilaterally," Guajardo said.
Ross did not respond to Guajardo.
There is already debate about whether Canada and the U.S. would strike a trade deal without Mexico. Canada's ambassador to the U.S. hinted in January that Canada would consider one-on-one trade talks with the U.S., and press secretary Sean Spicer has emphasized that the Trump administration wants bilateral deals.
President Trump calls NAFTA a "one-sided deal" that's only benefited Mexico and caused the U.S. to lose jobs to its southern neighbor. Congressional nonpartisan research concluded…