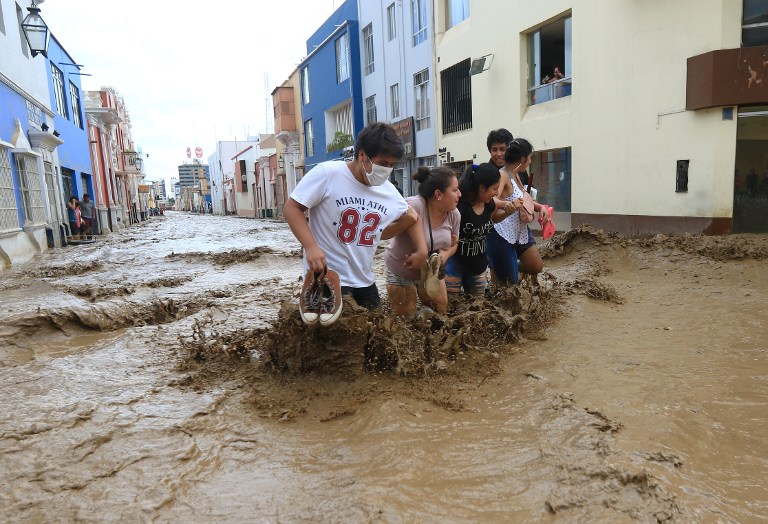 LIMA, Peru – Peruvians struggled on Sunday, March 19, to cope with avalanches, mudslides, and extensive flash flooding caused by torrential rainfall as forecasters predicted still more rain ahead, prolonging the country's woes.
The death toll remained at 72, authorities said, but devastating damage reports continued to pour in.
Prime Minister Fernando Zavala said 72,115 Peruvians had lost everything, while 567,551 had suffered less serious damage. He predicted days of more rain ahead.
On Saturday, March 18, flood waters swept into the very center of Trujillo, the country's 3rd largest city, filling its streets and forcing residents braving the waters to cling to each other to avoid being swept away.
The "huaycos," as Peruvians refer to the powerful avalanches of mud and stone that pour down from steep Andean hillsides after heavy rain, continued their damaging ways.
Mountains of mud wended through city streets, sweeping away everything in their paths: houses, furniture, and sometimes people.
Stranded for days
Air travel has been affected as well.
"I've been stranded in Trujillo for 5 days. My family lives in a part of Lima affected by the huaycos, but I haven't been able to get through to them," would-be passenger Ernesto Alvarez told RPP radio.
"Some 500 of us are stranded here, unable to…