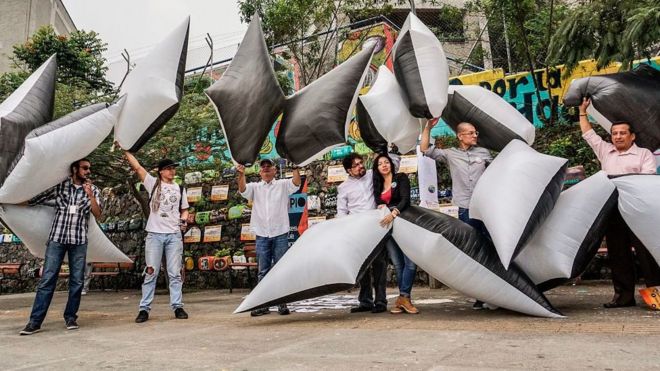 In 2016, Colombia's homicide rate dropped to its lowest in four decades, at some 12,000 cases. And yet the number of social leaders and human rights defenders killed has been on the rise.
By early May, the office of the United Nations High Commissioner for Human Rights confirmed 14 murders of human rights defenders since the beginning of 2017.
They said they had another 10 cases pending verification.
Francisco Gómez, a social leader in Arauca province, in the east of the country, only narrowly escaped becoming part of these statistics.
He had to spend a month in an intensive care unit after two men entered his house in the early hours in February, sneaking into the room where he was sleeping, and stabbing him in the stomach, chest and legs.
A member of a local human rights organisation, Mr Gomez survived thanks to the quick help offered by Juan Torres, a member of the left-wing Marcha Patriótica party with whom he shared the house.
"Hadn't I been at home he would have bled to death," Mr Torres told the BBC.
As it was, Mr Gómez had a heart attack just before entering the operating room, but luckily it did not prove fatal.
And if he is to be considered one of the lucky ones, it paints a serious picture.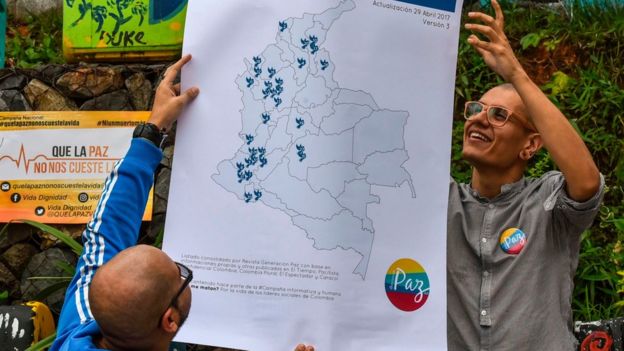 Exact figures for the number of deaths are hard to come by. Non-governmental organisation Somos Defensores (We Are Defenders) says 80 social leaders and human rights…