European oil majors given a taste of Brazil may soon be ready for more.
Norway's Statoil ASA, the U.K.'s Royal Dutch Shell Plc and France's Total SA have paid billions since 2013 to gain access to Brazil's fertile offshore oil riches. They're now seen as having the best chance to expand when Brazil later this year auctions four more blocks in the prolific play known as the pre-salt along the country's east coast.
The region already produces about 1.3 million barrels of crude a day. By 2023, that's set to surpass 2 million barrels a day, eclipsing Norway and a majority of OPEC producers. Such a move offers the Europeans a solid return on their investment and Brazil perhaps its best chance at an economic revival following a major corruption probe involving the state-owned energy company, Petroleo Brasileiro SA.
The Europeans "definitely have a leg up, there's no question," said Cleveland Jones, a geologist at Rio de Janeiro State University, citing the companies familiarity with the government and the region's deep-water geology. "They've done what is a very strategically positive thing for them, though it doesn't close the door to anybody."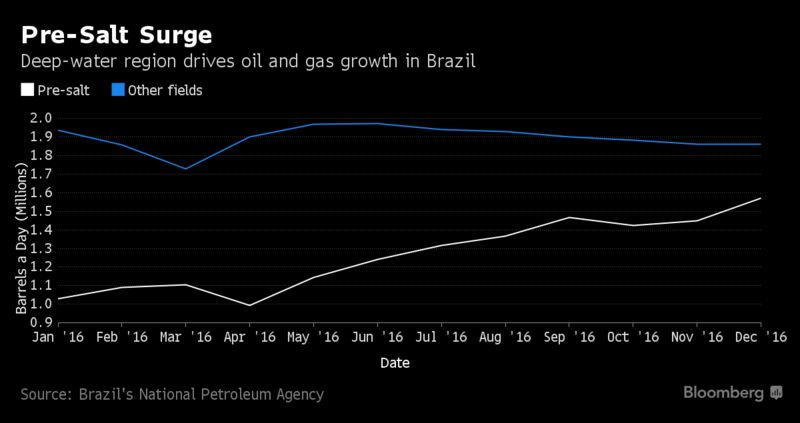 The decision to open Brazil's most prized energy discovery to outsiders was spurred by the financial and legal struggles at Petrobras following a sprawling corruption scandal. During the commodities boom, the company lost billions investing in unprofitable refineries and subsidizing fuel imports, resulting in the loss of its investment grade rating.
The pre-salt region was formed when the South American and African continents began separating more than 100 million years ago, gaining its name from a thick salt layer that blankets the deposits. Production of oil and natural gas began in 2010 at the Lula deposit, which has become Brazil's largest producing field at 711,000 barrels a day.
Production Peak
The National Petroleum Agency, or ANP, expects more than…