For coffee growers in Colombia, which supplies premium beans used by the likes of Starbucks Corp. and Nestle SA, peace at the end of a 52-year civil war means a lot more productivity.
Just ask Astrid Medina. After her father was killed by Marxist rebels a decade ago, she inherited his farm near the Andean village of Gaitania. At the time, only a fifth of the land had coffee trees in an area outsiders feared to visit. Once the army regained control, crop experts arrived to teach more efficient farming techniques and banks agreed to finance fertilizer and equipment. Medina quadrupled the area she cultivates and doubled output per acre.
"Every time there are problems with our crops — the arrival of diseases or issues with the weather — we request a visit from an agronomist and they help us," Medina said. She credits assistance from Colombia's National Coffee Growers Federation for giving her the tools to produce beans that an international panel voted as the best in the country in 2015.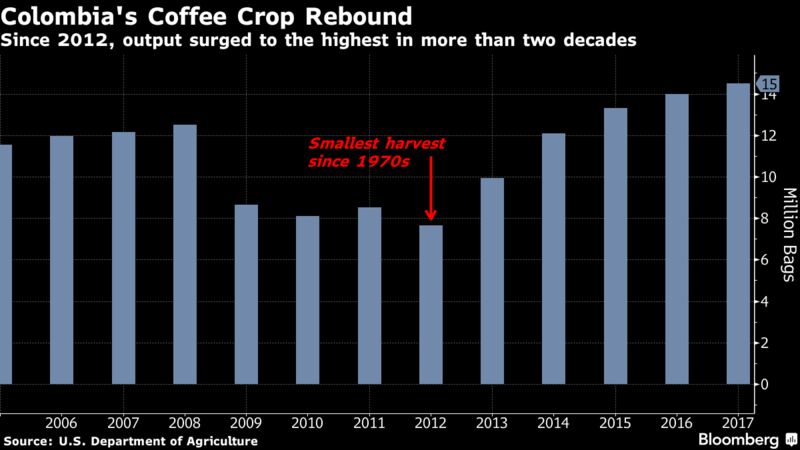 A similar transformation may now be possible in mountain regions long controlled by the Revolutionary Armed Forces of Colombia, or FARC. Under an accord signed in November — which led to the Nobel Peace Prize being awarded to President Juan Manuel Santos — about 6,000 fighters plan to hand over their weapons. While armed drug cartels protecting coca fields remain a risk, the end of the violent conflict with the rebel group could help boost productivity in a country that already is the world's third-largest coffee grower.
Colombia has roughly doubled production since a 2012 harvest that was the smallest in about four decades. Farmers, with the help of the federation, have replaced older trees with disease-resistant younger ones and planted more per acre. The country is targeting a harvest of 18 million to 20 million bags of coffee by 2020, up as much as 41 percent from 14.2 million last year. Each bag weighs 60 kilograms, or 132 pounds.
"With the peace agreement, we will do it faster and much more easily," Roberto Velez, who heads the growers federation, said during an interview…