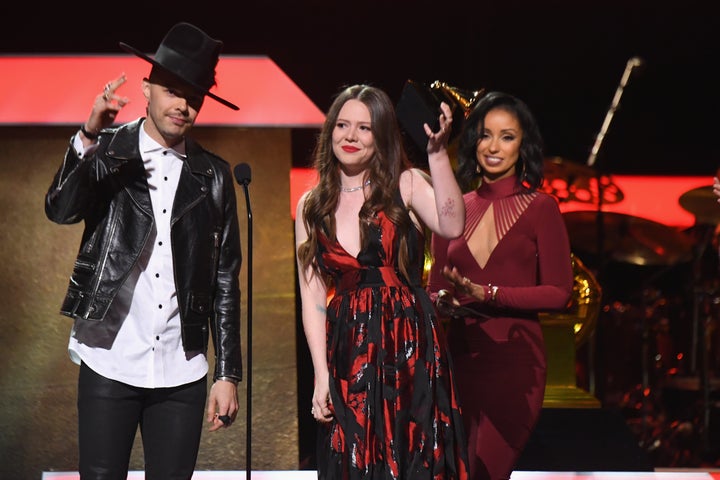 In February, Joy Huerta choked back tears as she held her and her brother Jesse's first Grammy on stage. The Mexican-American singer ended the group's acceptance speech by raising the golden gramophone and declaring their solidarity with Latinos across the country.
"We felt it was the perfect moment to speak up and say 'We are also the face of this country and what we want to do is work and find our place in the world just like everyone else'," Joy told HuffPost during a recent phone interview.
It was an emotional moment for the brother-sister duo, known simply as "Jesse & Joy," who won the Grammy for Best Latin Pop Album that night. The number of people who heard the artists' speech was limited to those who had tuned into the Grammy's pre-telecast online, but they said the simple act of being the only Mexican-Americans on the red carpet felt like the perfect way to chip away at harmful stereotypes of their community.
As Jesse, 34, and Joy, 31, celebrate over a decade in the industry ― during which they've become a familiar fixture on the Latin music charts with hits like "Espacio Sideral," "¡Corre!" and "Ecos de Amor" ― the siblings feel more compelled than ever to use their platform for good.
That's where the band's new music video for their single "Un Besito Más" comes in. The group debuted the video on July 11, during this year's National Council of La Raza (which recently rebranded as UnidosUS) conference.
The video, directed by Colombian filmmaker Simón Brand, follows the story of a young and talented U.S.-born girl who suddenly loses her undocumented parents to deportation after the family survives a tragedy. It also includes statistics, in both English and Spanish, to contextualize the issue.
For Jesse and Joy, the drive to raise awareness in support of the millions of U.S.-born children who fear losing their parents to deportation was inspired by their experience being raised by a Mexican father and an American…