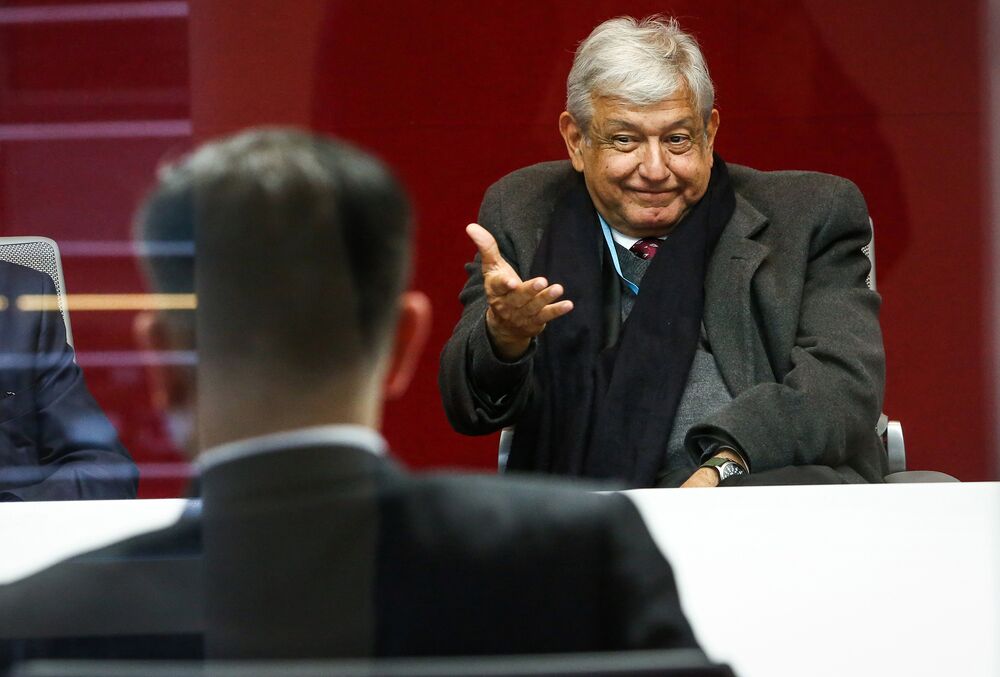 Mexican President Enrique Pena Nieto may be taking a cautious stance in his public comments on President Donald Trump, but the man who currently figures to be his successor is showing no such restraint.
In a 90-minute interview Tuesday in New York, Andres Manuel Lopez Obrador, the radical outsider who's the early frontrunner in next year's election, blasted Trump's "campaign of hatred" against Mexican immigrants, accused him of violating human rights laws, called his border wall plan a "propaganda" tool and said he couldn't wait to handle the renegotiation of Nafta himself.
"Pena is too quiet. And Donald Trump speaks very loudly," Lopez Obrador said. "One doesn't beg for liberty, one seizes it."
It could be a foretaste of clashes to come. Mexico and the U.S. have enjoyed a cooperative relationship for decades. Trump has changed the dynamic. He's gotten Mexicans so mad that, if the polls are right, they're ready to elect a fiery nationalist of their own, a politician who's spent years denouncing the way the economy is run in the interests of foreigners — in some ways, a Mexican anti-Trump.
'I Was Wrong'
Lopez Obrador, a 63-year-old former Mexico City mayor who's known simply as Amlo to compatriots, said that Pena Nieto should have brought a complaint against Trump at the United Nations as soon as his wall was announced — and vowed to take legal action himself, once he's president. He said it's unlikely that Nafta will be renegotiated anytime soon, and that's just fine with him because "it would be better if we're in power" when it happens.
First, of course, he has to win the presidency. He failed in his first two attempts, although he came within a percentage point of the prize in 2006. And the national mood is more favorable now. Pena Nieto's PRI party, which has held power for most of Mexico's modern history, has…