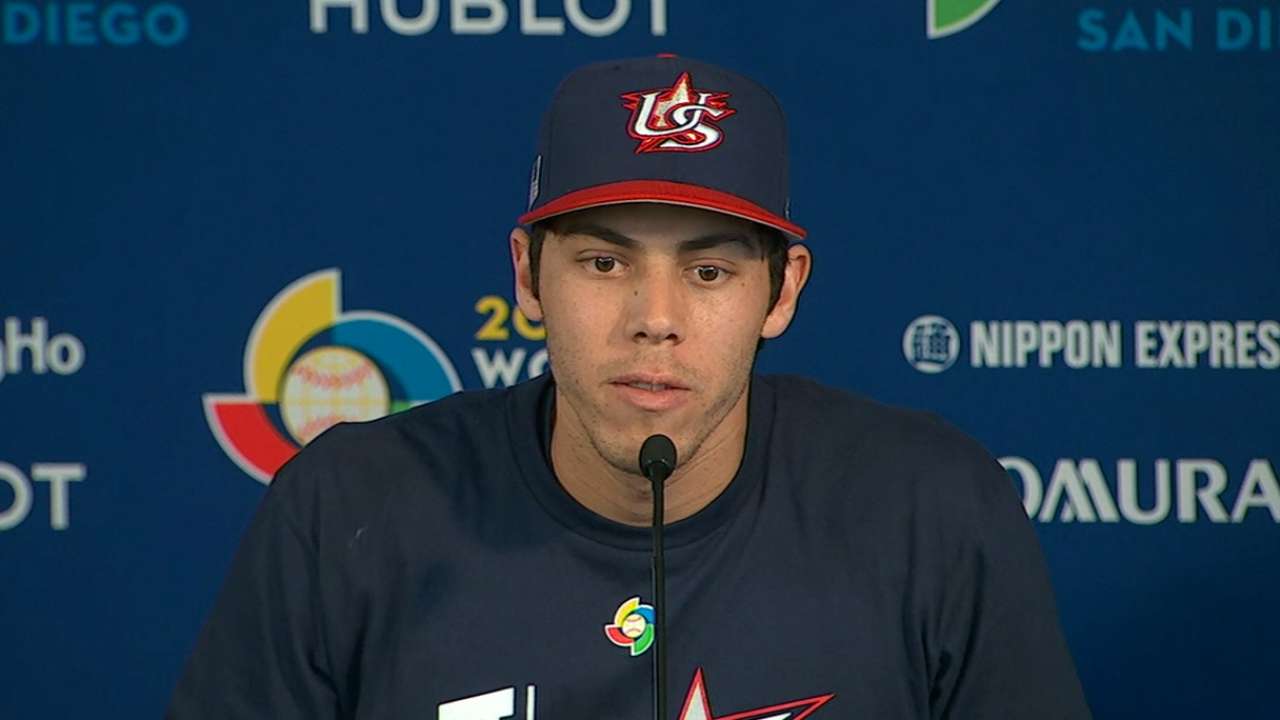 Both teams have star power. There's Miguel Cabrera, Felix Hernandez, Jose Altuve and a long list of other familiar teams anchoring the Venezuelan roster.
As for Team USA, there's the usual chatter about some of Major League Baseball's best players electing not to participate in the Classic. That talk should be ignored.
This team is loaded: Paul Goldschmidt, Giancarlo Stanton, Buster Posey, Eric Hosmer, etc., are in the lineup. On the mound: Marcus Stroman, Chris Archer and Danny Duffy.
If Team USA doesn't win a medal, it won't be because there wasn't enough talent. There should also be a friendly environment of Petco Park on Wednesday, even though there's likely to be a sizable Venezuelan contingent as well.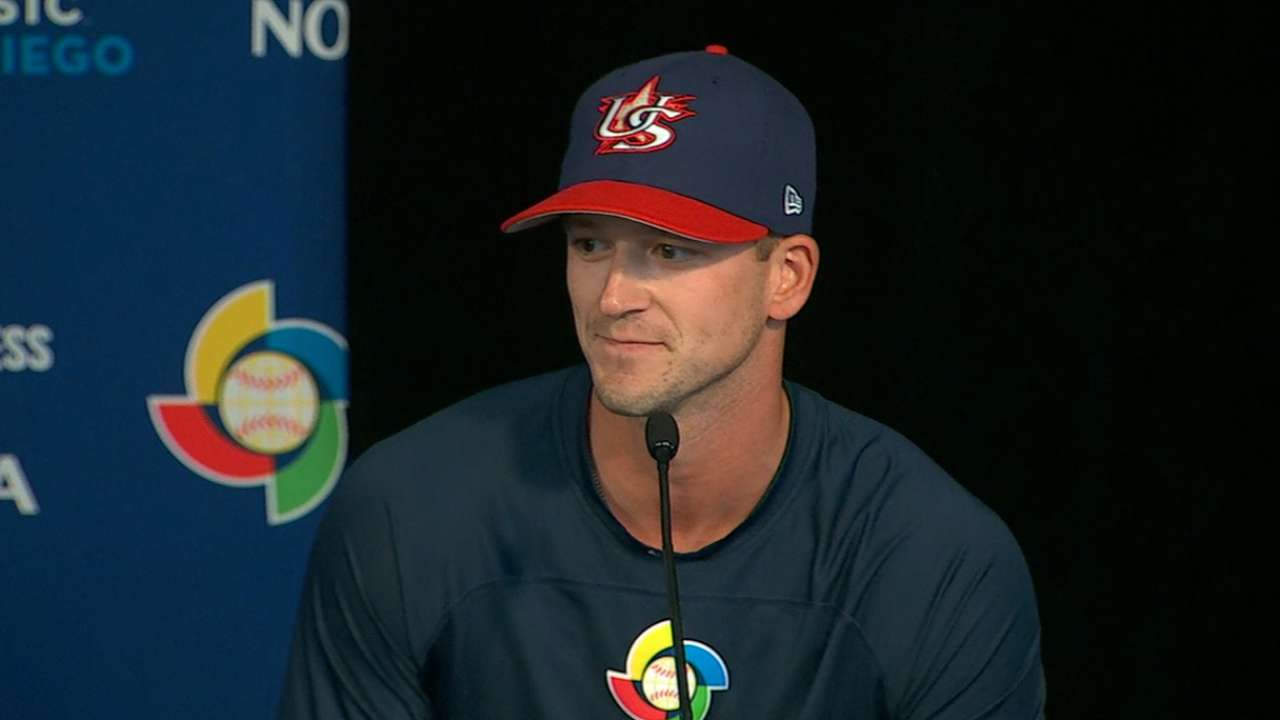 "Just to wear USA across our chest is something I've always wanted to do," said Mariners left-hander Drew Smyly, who will start the game opposite MLB teammate Hernandez. "And to play against the best in the world, it's an honor, so I'm excited to get my chance."
When the World Baseball Classic was born in 2006, Team USA and Venezuela figured to be powerhouse clubs. Baseball is a big deal in both countries, and Venezuela has produced some of the best players on the planet.
Some Venezuelan players say their country's political and economic unrest have contributed to a sense of urgency about doing well in the Classic. As Hernandez said before this year's tournament began, "We'd like to give our people something positive to cheer for."
So far, though, neither the Venezuelans nor Americans have had the success they hoped to have in the World Baseball Classic. In four tournaments, Team USA is barely above .500 at 12-11 and has zero medals. Venezuela 12-9 with finishes of seventh, third and 10th. That third-place finish in 2009 did get the Venzuelans to the medal stand.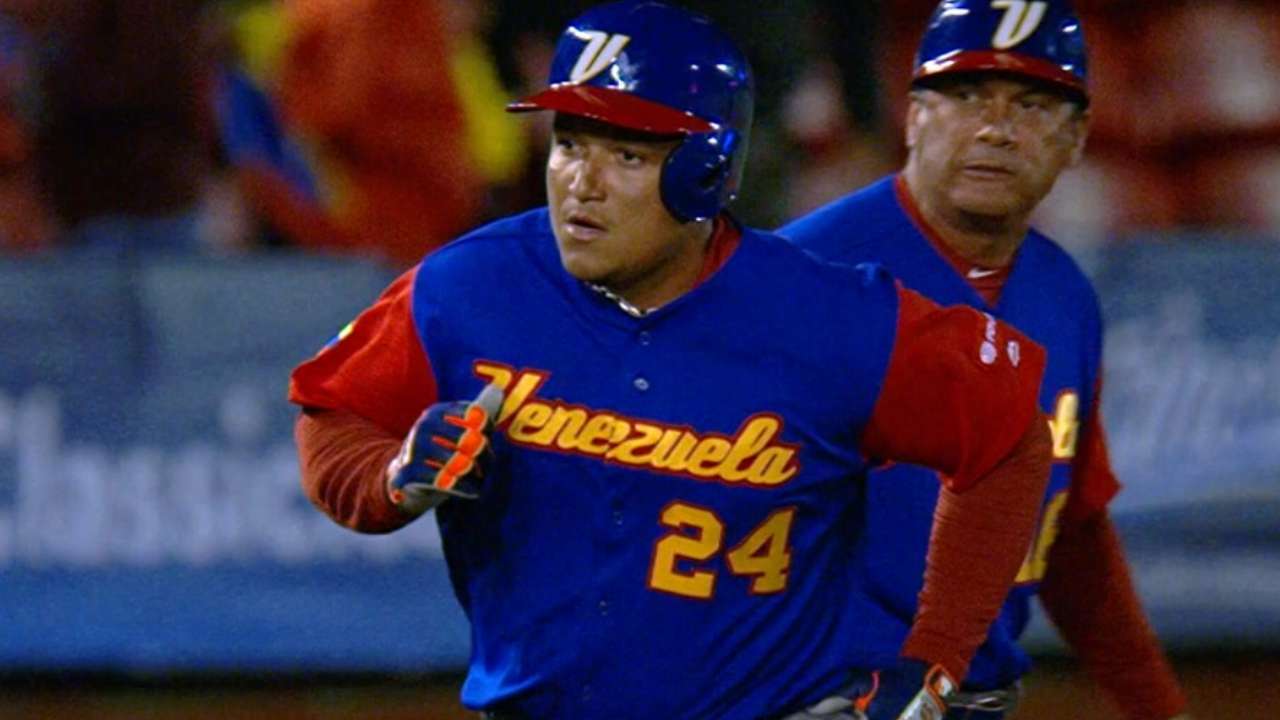 The Venezuelans were three outs from elimination on Monday night when Cabrera hit a monstrous home run to tie a game against Italy in the top of the ninth inning. They scored two more runs in the ninth inning to win, 4-3, and advance to Wednesday's game against Team USA.
Maybe that's the kind of victory that can propel Venezuela to a nice run as the second round begins. After opening the tournament with an 11-0 loss to Puerto Rico, the stars could be lining up.
Team USA could use a little magic, too. In three previous Classics, it has had finishes of eighth, fourth and sixth. The Americans have won two of three games in this tournament, rallying from a 2-0 deficit to beat Colombia, 3-2, in 10 innings, in the opener. Then came Saturday night when a 5-0 lead over the Dominican Republic became a 7-5 loss.
The Americans were propelled into the second round with an impressive 8-0 victory over Team Canada on Sunday. Now manager Jim Leyland has Smyly, one of his former Detroit Tigers, on the mound and a rested bullpen to back him up.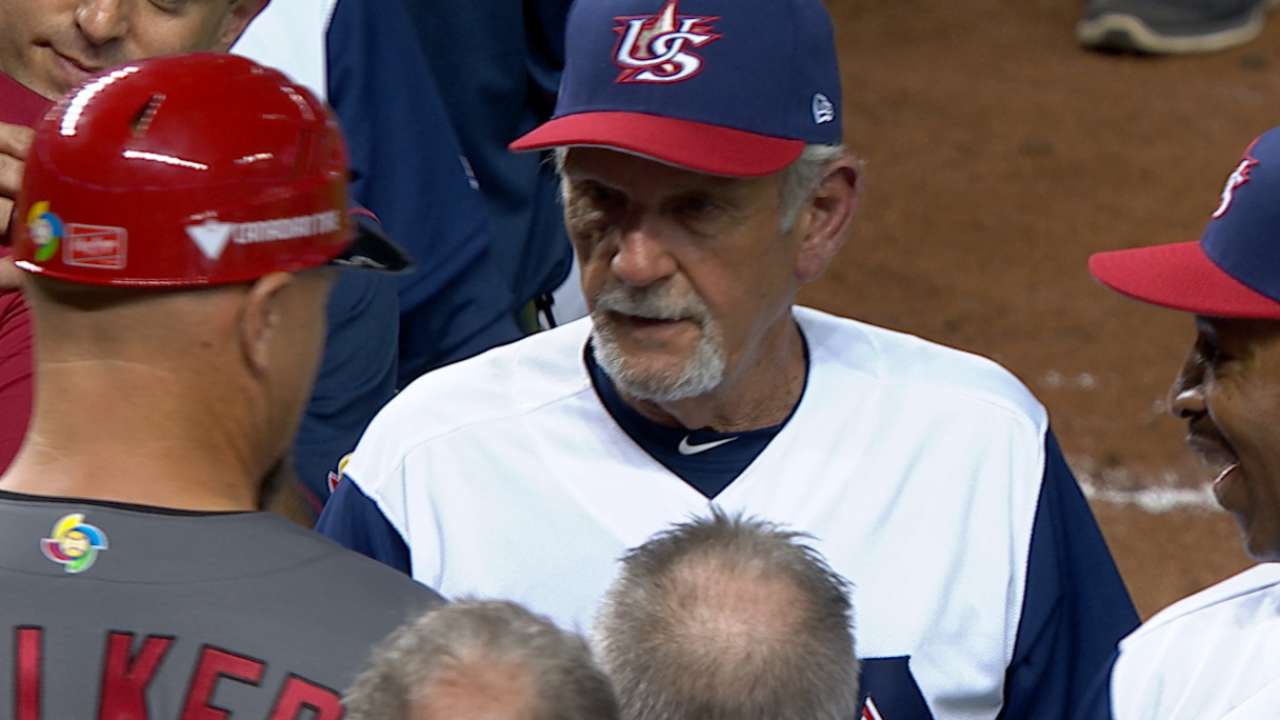 Every American player surely is aware of their team's poor showings in the World Baseball Classic, and many of them understand the event may not gain a strong foothold in the hearts and minds of baseball fans in the United States until the Americans do better.
While it may sometimes seem that players from other countries show more emotion than American players, that doesn't mean they care any less or are any less motivated.
"I think we have a pretty motivated clubhouse," Marlins outfielder Christian Yelich said. "It's all guys who wanted to be here. Nobody forced us to come play. Everybody took pride and wanted to represent our country."
The World Baseball Classic runs through March 22. In the U.S., games air live exclusively in English on MLB Network and on an authenticated basis via MLBNetwork.com/watch, while ESPN Deportes and WatchESPN provide the exclusive Spanish-language coverage. MLB.TV Premium subscribers in the U.S. have access to watch every tournament game live on any of the streaming service's 400-plus supported devices. The tournament is being distributed internationally across all forms of television, internet, mobile and radio in territories excluding the U.S., Puerto Rico and Japan. Get tickets for games at Tokyo Dome and Petco Park, as well as the Championship Round at Dodger Stadium, while…